The prize amount depends on several factors that you input, including your weight loss goal. You only get your prize if you achieve your goal by the end of your weight loss competition. The average prize for goal achievers is $1,331. Weight loss is challenging – we supply the fun, motivation and accountability, but you have to supply the effort!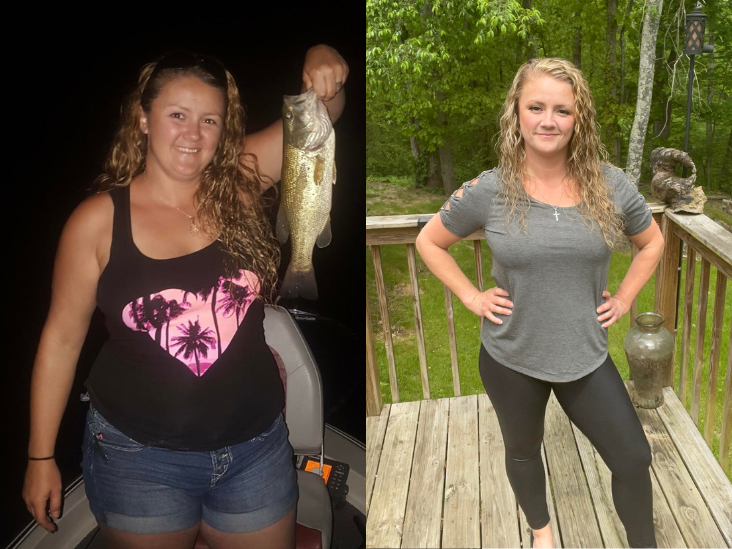 $5200
Name:

Tabetha M.

From: Soddy Daisy, TN

Lost: 53 lbs

in: 8 months

Won: $5200

"I got to my highest weight and I was extremely uncomfortable," Tabetha M. says. "I never wanted to go anywhere because I didn't want to get dressed. Because every time I got dressed, nothing fit me anymore, and it just made me depressed. I had turned into a hermit because I was so embarrassed and just down on myself. It got to the point where it was affecting my whole life. It was affecting my marriage and my relationship with my kids."

Fed up with feeling like her weight was controlling her life, Tabetha decided to take action. "I've done diet and exercise programs on and off for so many years, and needed to lose weight. I wanted to lose weight and lose it for good."

After seeing commercials for getting paid to lose weight, Tabetha remembered that her work had done similar weight loss challenges with the same company — HealthyWage. "I felt like this was going to be something new and exciting, and having money on the line would make me stick to my guns and go with it."

Tabetha made a weight loss bet that she would lose 50 pounds in 8 months.

"It started out with the little changes, and then it got bigger and bigger." Utilizing the free 6-month membership to the Jillian Michaels app, "I went on and started researching tips for nutrition and fitness. I was used to trying to get something quick to eat and when you do that, it's almost never anything healthy. So, instead of snacking on things I used to snack on, I would bake broccoli and season it with olive oil and cajun seasoning, and grill up chicken to go with it. I quickly realized that it didn't take up as much time to prepare healthy snacks as I had always thought it did."

Tabetha began noticing her mindset shift when it came to nutrition. "I looked at it as the fuel that you would put in your car. You put good fuel in your car because you want your car to run nicely. Same thing with your body. If you put unhealthy stuff in your body, it's not going to run as good as if you fuel it with the good stuff."

In addition to transforming her diet, Tabetha started working out to exercise programs she came across in the Jillian Michaels app, building up her stamina and strength throughout her challenge. "The Jillian Michaels free membership app worked my butt off…literally!"

When Tabetha's final weigh-out confirmed she had surpassed her goal and lost 53 pounds, she won $5,200!

"The biggest difference I've noticed since winning my weight loss challenge is that I feel so much more confident — not just in my body, but also in my ability to do things. I had forgotten how strong I can be and what I can accomplish."

For Tabetha, it was the monetary incentive that helped her achieve weight loss success. "I'm like everyone else who tried a million ways to lose weight. It would work sometimes, but I never stuck with it, and the weight just came right back. Knowing there was money on the line was exactly the motivation I needed to get this done."

"I really enjoyed the 6-month free access that I had to the Jillian Michaels app. It gave me a lot of options with exercise routines and nutrition plans you could choose from, but weren't required to do."

After overcoming her weight loss struggles and losing 53 pounds, Tabetha is feeling healthier and more confident than ever.

"I feel good about myself. I would pay every penny of that money I invested to feel and look like this. So to actually get paid for it, you couldn't ask for anything better. Now I can use my winnings to finally take my children to Brazil for the first time to meet my grandmother's family. And NOW I will actually be confident and healthy enough to wear a bikini!!!"
You Can Win Like
Tabetha M.